Next:
Bibliography
Resolutions of singularities.
Yoshifumi Tsuchimoto

We refer to [1] as a general reference.
THEOREM 01.1
(Nagata)
Every scheme

of finite type over a Noetherian integral scheme

is a open subscheme of a proper scheme

over

. of a complete
THEOREM 01.2
(Hironaka)
Every singular variety over a field

of characteristic 0 has a "resolution of singularities".
Examples of singular curves:

,



Blow up: Add an extra variable

.
Sometimes we need to blow up several times to obtain regular curve.
EXERCISE 01.1
Resolve the singularity of

.
An example of a singular surface: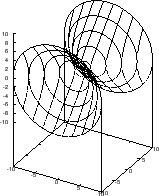 Blow up: Add extra variables

.
---
2014-04-17